Newman Awards Presentation 2022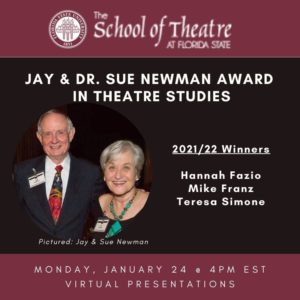 RSVP below to join us Monday, January 24 at 4pm EST for the 2022 presentation of winners of the Jay & Dr. Sue Newman Award in Theatre Studies.
Mike Franz for his paper, "Erupting Presence into Absence: Possibility, Potentiality, and Performance in New Orleans' 2019 Boycott Bowl", presented at the Doctoral Theatre Students Association at the CUNY Graduate Center in New York City,
Teresa Simone for her paper, "Thingspiele: Fascist Avant-Garde Theatre", presented at the 2021 Southeastern Theatre Conference, and
Hannah Fazio, to pursue training in Theatre Intimacy from three key organizations in this critical industry—Theatrical Intimacy Education, Intimacy Directors and Coordinators, and Intimacy Professionals Association.
Zoom information will be emailed to the address included in your registration below.